SIGI'S BOAT / SIGI'S BOOT
... is a thematic anchor for the imagination as well as an art educational course for children between 4 and 12 years old.
SIGI'S BOAT is a Meccano-style wooden boat with a size of 140cm x 350cm with which we can express an idiosyncratic story by improvising, rhythmic instruments, movement and different characters.
All the pillars of musical education are discussed. And once we are away from the shores, in the wide waters of the imaginary, SIGI'S BOAT becomes the floating nutshell where trust, togetherness and fantasy move freely. SIGI'S BOAT invites the children to move towards and explore to the scaffolding of the familiar, the narrative imagination.
Travel Theme:
the song of the sea on SIGI'S BOATSIGI'S BOAT and the DOLPHINS SIGI'S BOAT and the FLYING BUTTERFLY SIGI'S BOAT has an ANCHOR SIGI'S BOAT sails RAP
New program:
SIGI'S BOAT sails HAND in HAND... is based on the artistic philosophy of SIGI'S BOOT and stimulates self-expression with language, sound, play and music, from the child's own imaginative world. This educational offer is entirely in line with my artistic line and methodology as a transdisciplinary artist.
... navigates with words: objects and verbs in the form of sign language. So we sail with creative hand movements based on the regular sign language and the SMOG gestures.
SIGI'S BOOT on FB
concept & coaching: Sigrid Keunen Interested? & Would you like more information about the workshops?Geïnteresseerd? & Wenst u meer info over de ateliers?Contact Sigrid: +32 496 647 677 or
This email address is being protected from spambots. You need JavaScript enabled to view it.
&
... in het Nederlands klinkt het zo: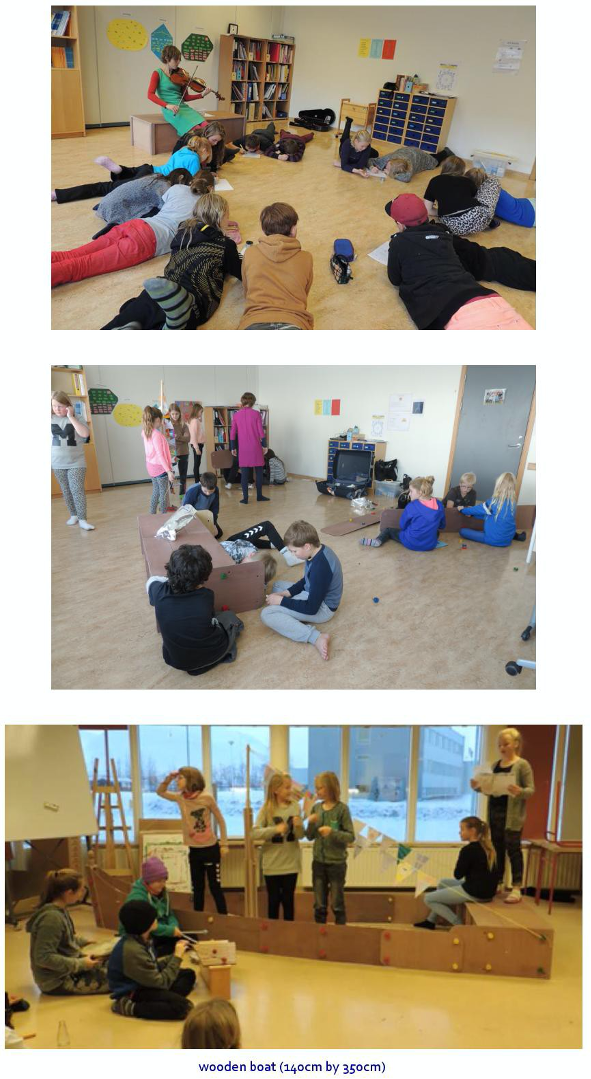 SIGI'S BOOT is een inspirerende creatieve muzikale en plastische tool. Een eenvoudig gestileerde houten boot is het spelmateriaal dat aanzet tot brede associaties. Aan boord wordt verbeelding gecreëerd, fantasie geëxploreerd en wordt er via improvisatie verteld, gespeeld en gemusiceerd.
Het stimuleren van de creativiteit opent de ogen en SIGI'S BOOT ondersteunt hiermee het 'zijn' in het dagdagelijks leven van kinderen van 4 t.e.m. 12 jaar.
SIGI'S BOOT is een verhalenboot. Een heel speciale. Een muzikale. Waar Noach dieren meenam op zijn ark, zijn het aan boord van SIGI'S BOOT klanken, ritmes en gezang waarmee de grote exploratietocht wordt aangegaan. Onderweg en vanuit de fantasie, scheppen wij een eigen muzikale en emotionele wereld. Wie instapt, vertrekt op creatieve zelfontdekking.
Thema Reizen:
het lied van de zee op SIGI'S BOOTSIGI'S BOOT en de DOLFIJNENSIGI'S BOOT en de VLIEGENDE VLINDERSIGI'S BOOT heeft een ANKERSIGI'S BOOT vaart RAP
Nieuw programma:
SIGI'S BOOT vaart HAND in HAND
... is gebaseerd op de artistieke filosofie van SIGI'S BOOT en stimuleert zelfexpressie met taal, klank, spel en muziek, vanuit de eigen verbeeldingswereld van het kind. Dit educatief aanbod ligt geheel in het verlengde van mijn artistieke lijn en methodiek als transdisciplinair kunstenaar.
... navigeert met woorden: voorwerpen en werkwoorden in de vorm van gebarentaal. Dus we varen met creatieve handbewegingen gebaseerd op de reguliere gebarentaal en de SMOG-gebaren.
&
voor de Brusselse scholen ontvangt SIGI'S BOOT steun van VGC Onderwijs: